Stylist Spotlight: Luly James, HUE studio
Virtue®'s DNA is rooted in science, but it's also rooted in real people, real experience, and real feedback. Our stylists and salon partners are the heartbeat of this brand. They are in-the-field experts who guide and champion us, graciously lending us their time and insight. In just a few short years, we've grown so much, and we're proud that our salon community is growing, too. In these features, we love introducing you to the brothers and sisters who help make up this family––one full of passion, expertise, and great, great hair.
A self-proclaimed old soul "and a bit of hippie," from Ciudad Juarez, Chihuahua, stylist and Virtue® educator Luly James of HUE Studio in San Antonio, TX, always knew this was what she wanted to do. "I love connecting with people and find that working with my hands is good for my soul; getting to heal and enhance their hair; and I love being in an industry that never stays stagnant. One where I can constantly evolve and have the opportunity to put my part in this world," she says. Here she shares her hair and style inspirations, the hard lesson she learned about cutting bangs, and her daily spiritual practice to help her stay present.

Q: What is your favorite memory from your journey? When did it feel like you caught your "big break?" I loved my experiences with Mane University when attending the advanced education. They would share the greatest tricks, and I had the best time meeting people from all over with the same thirst for knowledge. In the first class I attended, Adir Abergel was teaching styling techniques. That night, when reflecting upon class, I wished that I would get to learn and create with Adir. That was over six years ago, and now I have gotten to learn with him, create with him, share meals, and even join him to style friends for the Oscars!

Q: How do you define a "success" after a client leaves your salon? The moment they see themselves in the mirror with a great style and they smile at themselves. That's such a special moment for me.

Q: What's your favorite way to unwind after work? I like to get home and catch up with my husband, Eric, while lying on the floor so my dog, Oz, can attack me with love.

Q: If you could spend the day with someone who you consider a "style icon" who would it be? What would you do? This might not qualify as a style icon but I'm currently crushing on beauty expert Justine Marjan. We would get creative and work the runways of Fashion week.

Q: How do you like to stay up to date on the latest trends, techniques, and styles? Instagram is huge for me to connect with talent from literally everywhere. Everyone likes to share their own take on how to achieve different techniques, styles, and formulations. There's also content portraying great talent and visions from around the globe; I'll find myself in the craziest rabbit holes from which I come out super inspired by what I see.

Q: What's a trend that you hope comes back? Never goes out of style? Full eyebrows! I hope they stay forever!

Q: What do you value most about being a Virtue affiliate? The community. I have met the best people through Virtue®, and that has so much value to me.

Q: What was the worst haircut you ever had? It all started with needing a trim and my mom finding sharpie scissors and a stool. We set up shop in the backyard and that baby trim turned into a bob really quickly. A big, bushy bob.

Q: Worst haircut you ever gave someone else? I had just learned how to cut bangs in cosmetology school, and I could not wait to give my best friend, Lucy, a new look. Let's just say I learned really quickly that cowlicks on the hairline are very important to pay attention to.

Q: What was the first hairstyle or technique that you mastered? The hardest? I remember learning how to braid using a doll when I was really little. I was so proud of finally being able to French braid. The hardest techniques for me have to do with foil placement in color enhancement. I love the power of fully saturating in foils, so it was my goal to master the placement to achieve those natural, lived-in looks with a pop.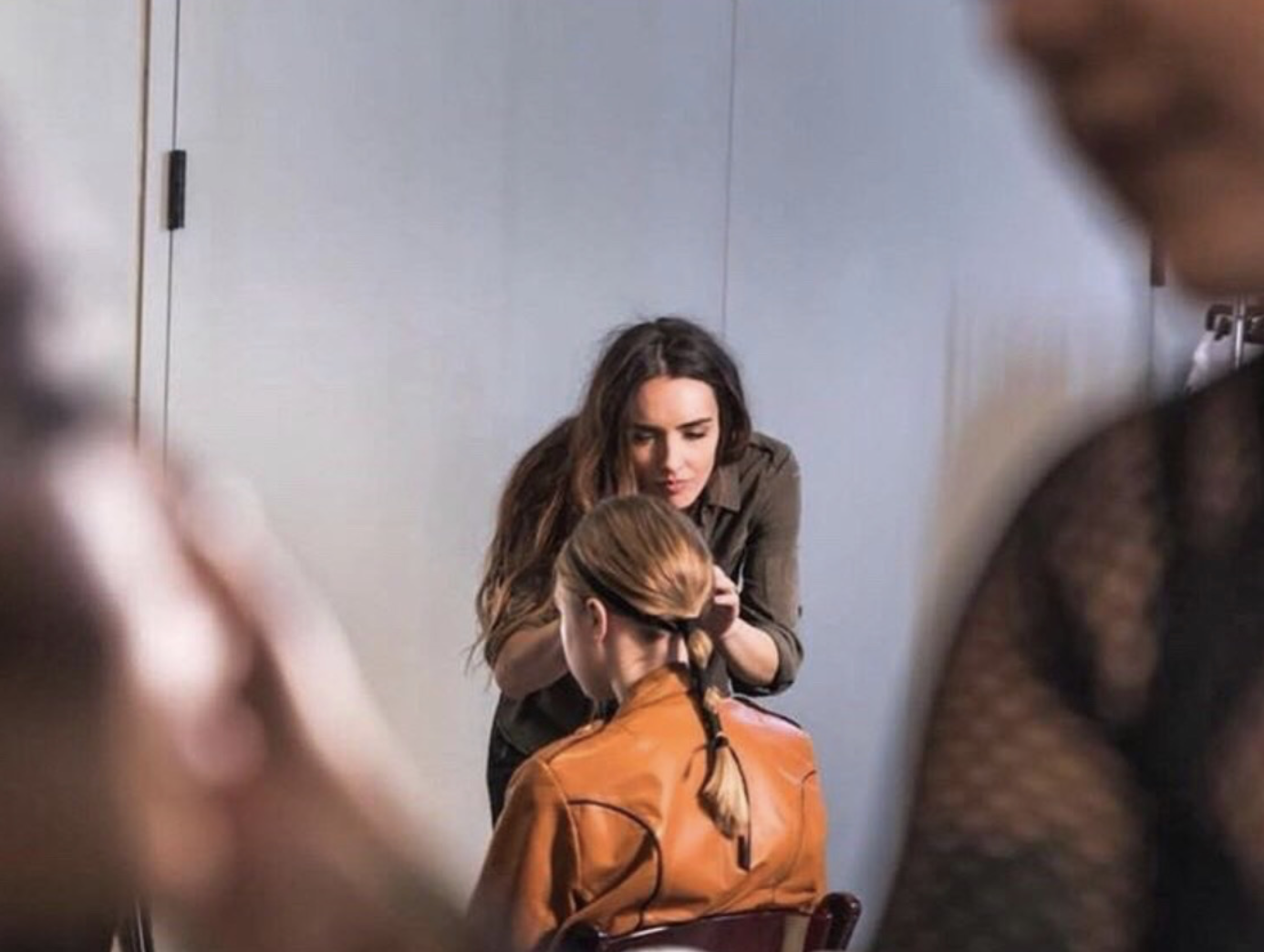 Q: What's your personal hair routine? Your favorite part of your hair routine? My hair routine is simple, but I like to vary what I use. My favorite part is shampooing: giving my scalp some love, feeling the suds, and smelling the product in that steamy shower is where my best ideas come! After that, I condition and allow it to dry a bit using my Kitsch microfiber towel while I dress and work on my skin. I always add Un-Frizz Cream and Split End Serum to protect my hair, no matter what I do after. Most of the time it's air drying and allowing my natural texture to come out.

Q: What other things are you passionate about that aren't hair related? I'm passionate about spirituality in various forms. I like to spend some time working on my mind and spirit in the morning and in the evening. I like to be active and be outside, so sometimes I combine the two and just go get lost in a trail somewhere…

Q: What's your favorite guilty pleasure to indulge? Food is my major indulgence. I go through phases, but I have a huge weakness for desserts and sweets.

Q: How do you manage work-life balance? That seems to evolve a lot. It takes a lot of reflection for me to be able to plan and stay present enough to enjoy it. The only way I manage is because of the wonderful people I have around me.

Q: What's next for your career? I have been spending my time varying my career. I like a combination of behind-the-chair work, editorial work, and mentee work. I love my clients and providing value from what I learn through creative work, as well as spending time with my mentors. Next I dream of making a hair bungalow outside my house, of having a hair wall and continuing to style for award shows. I have my eye on the Met Gala, BAFTA, and fashion weeks.

Q: Why Virtue®? So many reasons. The community: Every single person I have met through Virtue® holds a place in my heart. The education: I have learned so much from the collaborative efforts of the incredibly intelligent scientists, artists, and technical staff working at Virtue®.
2020-07-29 15:37:00
0 viewed