What Does Alpha Keratin 60ku™ Do For Your Hair?
It's the key ingredient in every Virtue product. It's what makes Virtue truly transformational and different from anything else on the market. But we know that sometimes a science-y name can sound a bit intimidating, and the word "keratin" itself can be misleading because of what you're used to hearing in the beauty industry.
To set the record straight, we asked our team to describe this unique ingredient (in their own words).
What is Alpha Keratin 60ku™?
"Alpha Keratin is a potent and pure protein that can seek out and find damage in your hair. Once it finds the damage, it binds to it and fills in weakened spots to repair. It transforms hair that is damaged, in turn leaving you with beautiful and amazingly healthy hair."
-Debby, Product Development
"Think of each strand of hair as a piece of Swiss cheese. Instead of just wrapping plastic wrap around the cheese, Alpha Keratin 60ku fills the holes (aka damage)! Coating your hair only makes it feel good for an instant, but our protein is rebuilding each strand for your healthiest mane ever!"
-Lexi, Community Management
"Alpha Keratin 60ku™ is liquid magic – it finds damage and fills it like cement over a pothole"
-Andrea, Social Media
"Alpha Keratin 60ku™ is like a GPS system where it goes directly where the damage is and gives you the best hair you could possibly have"
-Adir, Creative Director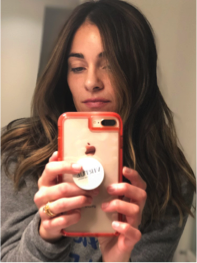 What does Alpha Keratin 60ku™ do for your hair?
"Gives body and life to my dull, fine hair. Basically feels like I'm adding hair to hair – and it grows quicker and thicker"
-Aaron, Sales
"Made my fine hair so much stronger and longer. My nails even feel stronger!"
-Kara, EA to CEO
"I have PCOS and my hair has been thinning since I was 16. It made me feel insecure for so long. Alpha Keratin has given me confidence. My hair looks healthy and voluminous again. I can wear it au natural and rock frizz-free waves. These are all things that Virtue promised and actually delivered. What surprised me was that I could actually brush my hair for the first time ever without it turning into an ugly, frizzy mess."
-Christianna, Customer Care
"Virtue allows me to color without losing my curls. Being naturally curly, my hair tends to be on the dry/frizzy/fuzzy side. When I highlight my hair, the color-treated strands get more frizzy, damaged and tend to be a little straighter than everywhere else. Virtue helps to moisturize AND strengthen my hair so it literally bounces back into springy and seemingly weightless curls."
-Erin, Scientist
2018-02-19 00:00:00
0 viewed