Virtue Scalp Diaries
The people have spoken. Our new Exfoliating Scalp Treatment has people raving. Summer, more than ever, is the perfect time to give your scalp a clean slate. We could go on, but why don't you see for yourself?
"I've had an itchy scalp problem for quite some time. After washing my hair and using the Exfoliating Scalp Treatment, as I'm brushing it out, it's super smooth with no tangles. I can tell my scalp looks super healthy, too. I love the result. My hair feels so smooth and soft after being just blown dry without styling. I think this scrub is going to be my new best friend."
—Selma
"This smells like walking through a forest garden! I love how light it feels while massaging into my scalp. The product rinses out easily and leaves my head and hair feeling fresh like when you've had an expensive treatment done at a salon. My hair feels softer and doesn't feel like I've weighed it down. I will love using this with my other Virtue products because I can feel and see the difference using it makes."
—Amy
"The Exfoliating Scalp Treatment is like something I have never tried before! It is such an incredible treatment that really tackles so much at once. Normally I am very hesitant to use scalp scrubs and things of that nature because I have such long and thick hair that they tend to tangle my hair. This scalp treatment by Virtue was the polar opposite though. It did take quite a while to rinse all of the particles and product out, but the results were incredible and so worth it!! My hair and scalp felt so refreshed and deep cleansed, but it also felt incredibly nourished and my hair felt soft and moisturized as well. It is truly a product I haven't tried anything like before. I love this treatment!"
—Lauren
"I'm excited to have found this product! Conditioners are a major challenge for me because I have fine hair that gets so greasy at the root, but super dry mid-ends. On top of that I live in the desert, we have very hard water, so external factors create their own challenge! I would love to find a Virtue routine including additional products after seeing how wonderful this has been for me!"
—Mallory
"Virtue has tremendously helped my hair over the past couple of years. Recently, they just released a new scalp scrub and it is absolutely amazing. It helped my hair to feel clean and refreshed, and the white flakes that had been there from just dry scalp were completely gone after the first use. So I highly recommend their new scalp scrub."
—Elissa
"Freshly showered after using the Recovery Shampoo, Exfoliating Scalp Treatment, Recovery Conditioner, and 2-3 drops of the Healing Oil. Firstly, the Exfoliating Scalp Treatment smells AMAZING! I took a generous amount as instructed and massaged my scalp for a couple of minutes. My scalp has never felt so refreshed. I've dealt with dry patches on my scalp for most of my adult life and this is the best product I've tried. With a double rinse, there was zero grit or residue left over. I can't wait to use it again!"
—Melissa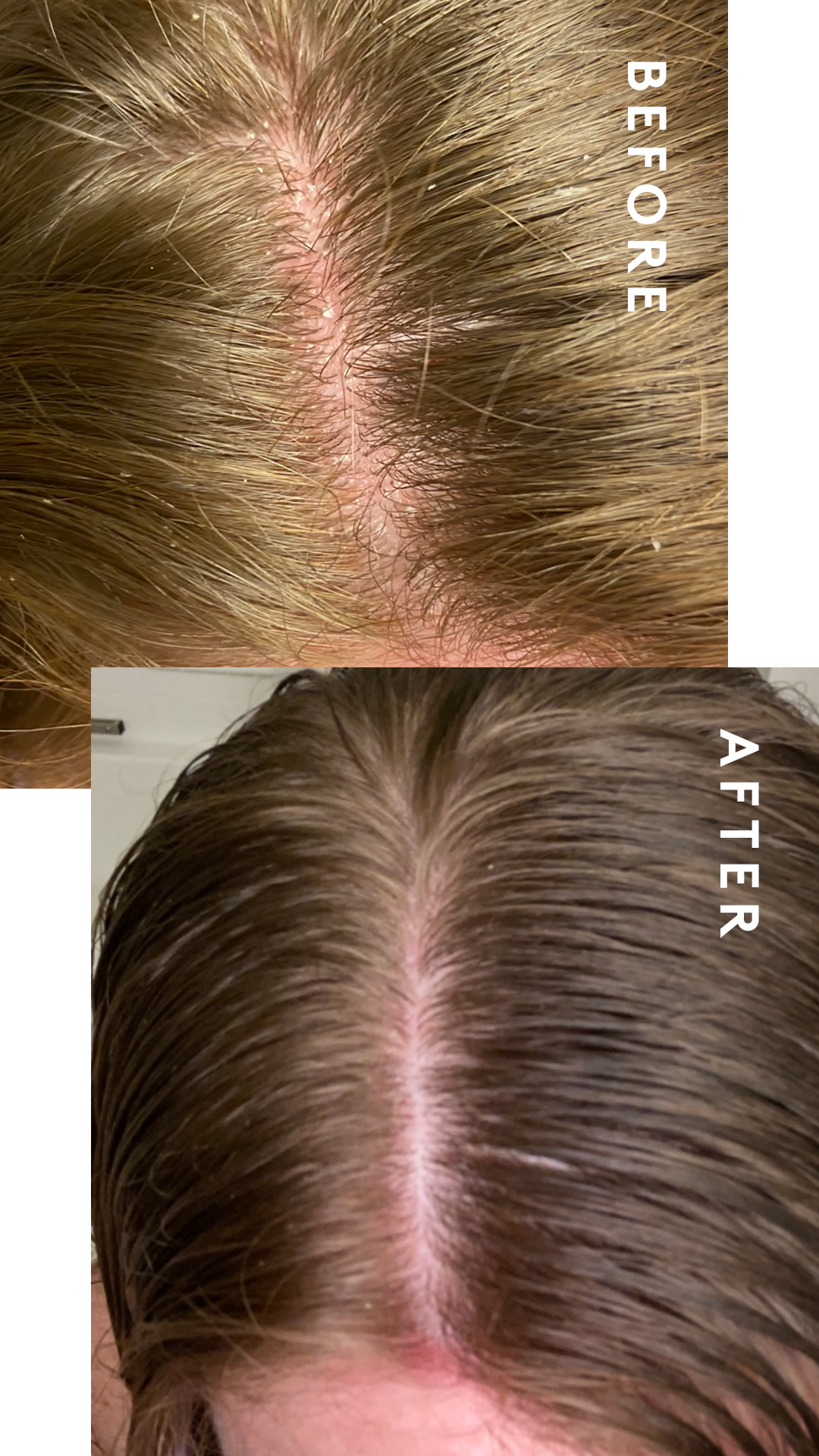 "I loved the smell of it! I liked the scrub texture and it was super easy to apply. I noticed great results from the first use with my scalp on my part not being as red and then my folliculitis on the brim of my forehead was not as red. Overall, I experienced less flaking after letting my hair air dry. "
—Kelsi
"Using the product was easy, the smell is great! I scrubbed with my fingers for 2 minutes and then ran it through by hair to the ends. As suggested, I did not use conditioner. Overall, my scalp feels great post usage."
—Veronica
"I was totally amazed by the Exfoliating Scalp Treatment! I had swam all day at a lake and used it right after and it made my hair silky soft and smells great! I let my hair air dry and it didn't become tangled and dried super straight! Loved it!"
—Gabby
"Trying the shampoo and the exfoliator was nice, at first it was a tad bit drying but after trying the exfoliator a second time, it felt a lot better and my scalp felt a lot cleaner and less irritant. The exfoliator helped decrease some of the dandruff that I have been struggling to get rid of for months now. I would definitely recommend it for anyone who wants to cleanse or treat the scalp and hair. "
—Perla
2020-07-23 14:58:00
0 viewed